The ASM members includes many full-time, professional magicians, available to entertain in a variety of events and situations.
Here are some of our recommended magicians:
Glenn the MagicMan
Glenn the MagicMan's high-energy shows are packed to the brim with comedy, laughter, slapstick, magic, ventriloquism, as well as lots of audience participation and special 'star' treatment for all of his onstage volunteers.  Glenn has shows specific to a wide range of age groups, from children's shows and family events to corporate and private functions.
Website: http://www.glennthemagicman.com.au
Micky Trickstar
With two decades of experience as an entertainer along with a background in theatre and acting Micky Trickstar guarantees hilarious,mesmerizing,energetic and family friendly entertainment ensuring your event is unforgettable.
Website for Childrens Parties and Family Shows: http://www.mickytrickstar.com.au
Website for Adult Shows and Corporate Events: http://www.mickymagic.com.au
David Jones
David specialises in Close-up and Strolling magic, the type of magic which is performed from table-to-table in a restaurant or banquet situation, or moving amongst small groups at cocktail parties or receptions.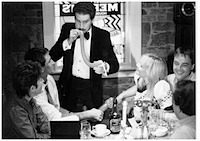 Website: http://www.davidjonesmagic.com